Twenty-ten was a great year! Highlights include the launch of Global SE, hosting Wooster's first International Entrepreneur in Residence and administrative commitments to ensure that Global SE remains part of the Global Engagement landscape at Wooster as we move forward with strategic planning. We begin this new year with considerable excitement and energy!
We have recruited two new staff to our ranks: Cezar Mesquita and Charles Laube, both from Admissions. We have an SE first! Carolyn Ciriegio, an SE alum who works in alumni relations (I did not make that up!) has returned to lead a team! Carolyn says "I never imagined I would be back to implement the recommendations that I wrote as a student when I last worked with SE and AMRE." Local SE is excited to work with four new clients this year — Main Street Wooster, Wooster Community Hospital, Wooster Local Roots, and Wayne County Sustainable Energy Network. Twelve students have been recruited to begin the local seminar on Friday Jan 14th.
Four students have been admitted into Global SE: Sarrah Abboud, Kipaya Kapiga, Sam Susanin and Erika Takeo. In May we will return to work with Dream a Dream and ENAble India. In the meantime, the Global SE students will study the problems given to us by the organizations in India and understand the Indian social enterprise landscape as well as the challenges of eliminating poverty.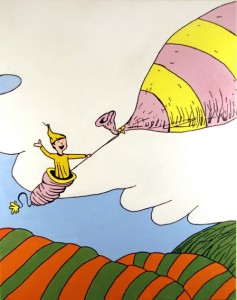 In the meantime, I have been "playing with technology". Below is a neat educational Prezi that I put together last night, based on Dr. Seuss's "Oh the places you will go." After watching it, it should be clear that the entrepreneurial ecosystem is alive and well at the College of Wooster.