Seven undergraduates design academic experience and work with social enterprises in India
Summer internships help college students acquire valuable life skills, but Amyaz Moledina, associate professor of economics at The College of Wooster, and a multidisciplinary team of students have taken the concept to a new level with the Global Social Entrepreneurship problem-based learning experience.
The program is similar to Wooster's Applied Mathematics Research Experience (AMRE), which assigns exceptional mathematics and computer science majors to serve as consultants for businesses, educational institutions, government agencies, and non-profit organizations.
The latest endeavor has been "quite a few years in the making," according to Moledina. "We were looking for ways in which to innovate from the AMRE model. We thought, why not try to do what we do so well in our local community, globally?"
As Director of Social Entrepreneurship, Moledina asked a team of students to design a unique global social entrepreneurship program that had a field component. Students designed and wrote a comprehensive social entrepreneurship education plan. On the strength of this plan, Moledina and one of his students, Marianne Sierocinski, traveled to India the previous summer to visit with 10 organizations and begin constructing a framework for the seminar and field experience. Moledina then organized and received approval for a special preparatory seminar. "We tried to set-up a situation where we could observe a problem through the lens of an organization that works with people in need," he says. "The design of the seminar was unique in that I put the students in the driver's seat and let them take charge of the learning process. I think this is the first time students have been involved in designing their own academic experience. I know of few other academic experiences that begin from a student-authored business plan."
Shortly after the seminar ended in May, the students began their field experience, which recently concluded in Banglore, India.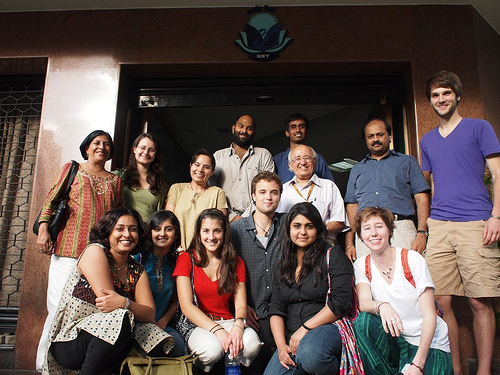 Student teams provided consulting services for two internationally recognized local social enterprises: Dream a Dream, which works with underprivileged children to inculcate life skills, and Enable India, which provides training and placement services to Fortune 500 companies for people with disabilities.
"Our goal has been to help the students use their skills to understand and solve the problem given to them," says Moledina. "What's interesting and exciting is that the problem is always evolving and ambiguous. This rarely happens in a regular academic experience."
Dream a Dream is hoping to improve its impact assessment on the children it serves, and the Wooster students have been deeply involved in the effort. Enable India wants to look at various business models so that the organization can reach more people with its services, and Wooster students invested their critical thinking skills in that project as well.
The two organizations benefit from the free service, and the students, who come from a range of academic disciplines (including sociology, anthropology, economics and international relations), benefit from the experience of working with people of different age groups from different cultures.
"I believe that if we truly are a college that changes lives, we need to empower our students to learn continuously and help them connect to the world," says Moledina. "The global landscape is changing rapidly, and we need to give students a chance to experience it as it happens. Their vision is evolving, and I don't want to put any limits on it."
To learn more about the students' experience check out their blog and see the pictures on Flikr.