By Ashley Baxstrom
Social entrepreneurship: in the words of Eleanor Newman '10, it's "not just about helping people – it's about developing a business and also providing social value in a community."
Since 2005, the College of Wooster has introduced students to the process and concepts of social entrepreneurship by connecting student teams and real-world clients to find solutions for financial and organizational problems.  The SE program offers a combination of experiential learning and cooperative problem-solving to develop business opportunities with sustainable social and economic value.
In the spring of 2008, a small team of students put their creative thinking to the test to create a business model for The Wilderness Center in Wilmot, OH.  Executive Director Gordon Maupin asked for help to put together a sustainable model for a regular podcast.  "It had been something I'd been looking at for a period of time, but hadn't had time to make the business plan," Maupin said.  "I thought computer-savvy college students could be a big help."
The SE program had several students interested in taking on the challenge.  Newman, originally attracted to SE because of a poster, was intrigued by the responsibility and progressive thinking which was expected of students, "something you'd expect to see at graduate level."  Thomas Stikeleather '10 was attracted to the environmental factor and the emerging technological issues.  With the help of their teammates and faculty advisor Amber Garcia of the Psychology department, the students got to work.
Newman had never heard of a podcast making any money, but thought the idea had a lot to offer.  "It struck me that there were people who knew so much about the wilderness and had so much to share" she said.  "It seemed like a great way to … be able to spread that knowledge to a greater community than the one that's local.
The process was a combination of teamwork and individual responsibility.  Initially meeting every day, the students was able to bring their own ideas to the table and utilize their separate interests to put together a multi-faceted model.  "We worked really well as a group," Newman said, but added "it was a very independent process – we were expected to get along and do our own thing."  Separately they researched concepts like marketing, technology and profitability, and weekly met with each other, their advisor, and again with Maupin to gradually lay out what fit the proposal.
Stikeleather thought communication between the parties went very smoothly.  "They really had a passion about the project as much as we did.  I know other groups ran into hurdles (with communication), but they were rooting us on the whole way."
"I thought they did a great plan and I was very pleased," Maupin said.  The model was so feasible that in 2009 he went back to the SE program for help putting it in effect, and Stikeleather, involved with the College radio station, found himself working with the Wilderness Center once again.  Maupin assigned specific tasks of researching and finding the right equipment and setting everything up.
David Wiebe, Access Services Manager at the College library, was there to help.  With a background in technology and interest in the emerging field of podcasts, Wiebe advised Stikeleather on equipment and software.  "He was in my office all the time!" Wiebe said.  "He was what I saw as the conduit of communication."
Wiebe, Stikeleather and Maupin met several times to revisit the business plan and nail down the application.  Wiebe had the technological expertise to advise on equipment and trained Stikeleather in software like Garage Band.  Stikeleather was essentially the producer, bringing people together, and handled issues such as marketing.
The process wasn't without its share of hurdles, of course.  For Maupin, it was trying to incorporate the new technology at the Wilderness Center.  "Whenever you're dealing with computers and technology, how can you go five minutes without some frustration?"  Stikeleather had to handle the difficulty of balancing his junior year independent study and activities with the very real complications of implementing a business plan.  "The thing about this kind of work is the business plan isn't as definite a goal as maybe a paper is, so there's more ambiguity about it; so in that time between developing the plan and letting them know you have to make some personal decisions, you're not sure how you're keeping up at all times."
In the end though, everything came together.  The Wilderness Center's Wild Ideas weekly podcast has been in operation for a year, boasting over 50 posts.  Every week presents a different topic in nature and the natural sciences, hosted by Maupin, other Center personnel and special guest expert speakers.  Its friendly, conversational tone has made it popular around the world: since being featured by iTunes, it has been downloaded (over 20,000 times) on every continent except Africa and Antarctica.  "It's not terribly formal but that's part of the flavor," Maupin said.  "They get to listen to environmentalists chatting."
Stikeleather also began playing the podcast on the College radio station Woo 91 (90.9 locally) this year.  "I think it has an enormous social value," he said.  "It gives a local non-profit organization a voice that really informs anyone who's interested and anyone who's willing to tune in."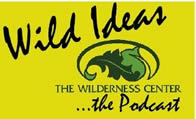 Maupin says the Wilderness Center is optimistic the podcast will continue to grow, and is interested in furthering the marketing potential for it, especially in the new social media sector.  "Maybe we could get some students together and get some wild ideas flowing around," he said, anticipating potential future cooperation with SE again.
Wiebe also enjoyed the opportunity he had to work closely with a student. "I don't often have that experience, to see a student take charge … in a pretty comprehensive project."  Since working on the project, he's also become a regular at the Wilderness Center with his family.  "To make those connections with members of the community, I thought that was great."
Stikeleather graduates this spring with a degree in urban studies, and will carry the social entrepreneurship lessons learned with him in his graduate studies and career in city planning.  "SE really requires us to assess the social value of anything," he said, reflecting that it provides "a moral sense to anything that you want to shape, where you're doing something that has benefits beyond yourself, and such action I think is commendable anywhere in the world."
Newman, graduating from the department of International Relations and looking toward a career in non-profit work or journalism, also left the program with a strong sense of its potential value.  She recalled, "Karl Marx would talk about how relationships are no longer about how you were judged but what you could buy," observing how businesses in the modern economy had severed their relationships with people.  She thinks American and global industry needs to move toward a more community-oriented model.  "If the idea gained some popularity and we started thinking about how we could build a better business and community, that would create a better world for all of us."